Dear Clients,
Health and Safety Protocols for Clients at Innergetics, natural health clinic
As we gradually return from lock down due to the COVID-19 pandemic we have received protocols from our regulatory college (the CMTO) for health and safety measures for our clients and ourselves as practitioners. We are determined to meet all these standards. In addition, we will be giving you specific instructions in this document as to how to make your visit to our Health Clinic as safe and practical as possible. I, my staff and all the healthcare providers in our Health Clinic are making a commitment to constantly applying safety protocols to ensure everybody receives the care they are seeking in a safe and trustworthy environment.
Here are highlights of changes that you will experience before and during your visit to our Health Clinic:
Please ensure that you (or a person who must assist you and accompany you) have no symptoms of COVID-19 before you come to see us (please refer to the attached checklist)
When you arrive for your visit, please wait in your car or outside the building until you receive a text message or phone call telling you to come upstairs for your appointment
Please wear a face mask when you enter and during your attendance at our office
We will be doing a temperature check as a screening procedure
All our practitioners and staff will be wearing face masks
For everyone's protection we have installed a Plexiglass shield on the reception counter
All transactions and appointments will be arranged in front of the Plexiglass shield
All practitioners will employ strict disinfecting routines between client visits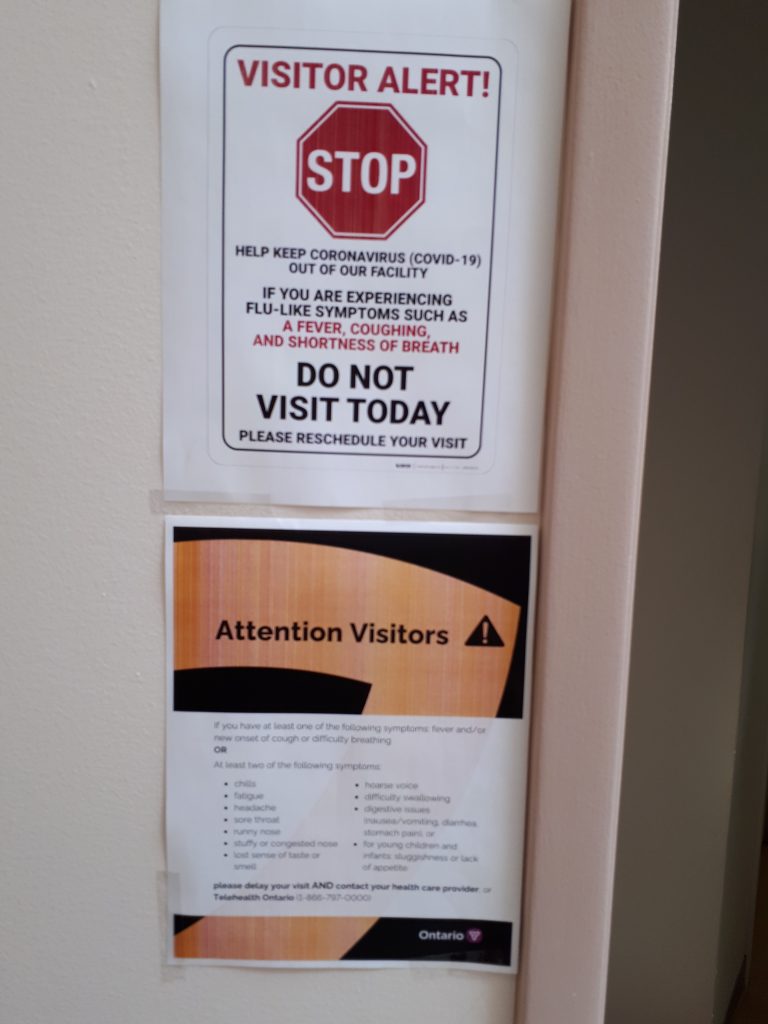 To ensure everybody's well-being and safety we are asking for your complete cooperation in all aspects of the procedures described below for your typical visit to our Health Clinic. When we all do our part every visit to our Health Clinic will be a safe visit! Please follow or be aware of the following protocols:
Before You Leave Your Home for Every Treatment at the Health Clinic:
Please review or remind yourself of all the instructions and protocols listed here
If you have any questions before you come, please contact our office at 905-738-6303

Go through a checklist of COVID-19 symptoms which includes:
The most common symptoms: fever of > 37.8°C, new or worsening cough and shortness of breath
Other possible symptoms: sore throat, hoarse voice, difficulty swallowing, smell or taste disorders, nausea/vomiting, diarrhea, abdominal pain, runny nose, sneezing or nasal congestion

If you have the slightest suspicion that you might have COVID-19, please do not come to the office. Instead you should contact your family physician or go to a testing centre or call Telehealth Ontario for further instructions. The phone number is 1-866-797-0000.
If you have been told or you suspect that you were exposed to an individual with COVID-19, you must go into self-isolation or quarantine for a period of 14 days.
You will need to bring and wear a facemask when you enter our office.
Always come by yourself unless you need someone else to assist you for mobility or communication reasons. (There will be no sitting in the waiting room).
We strongly recommend that you have a bathroom visit at home before you come to the office so you can avoid using our public washroom.
When You Arrive at 390 Steeles Ave. West:
Each practitioner will only have one client/patient in the office at a time. Therefore…
If you arrive by car you should wait in your car or in the parking lot until we text you or call you to come upstairs
If you are arriving by public transit please wait outside if the weather is good or in the lobby until you are texted and informed to come upstairs
When we inform you to come upstairs please wait in the hall outside our door and do not enter the office until you are instructed to do so
Please remember to be wearing your facemask when you enter the building!
When You Enter Our Health Clinic:
When I am ready to bring you into the office I will come out to the hall and check your temperature with an infrared thermometer as well as ask you some screening questions regarding symptoms
If your temperature is elevated or you have a high fever, or there are concerns from the screening questions, I will instruct you to contact Telehealth Ontario, contact your family physician or go to a testing centre and you will not enter the office for that visit
If everything is okay you may enter the office with me
There will be hand sanitizer on a stool in the waiting room so you will sanitize your hands there
I will lead you directly into your treatment room and open all the doors for you
When Your Treatment Session has Concluded:
I will bring you up to the waiting room where you can book your next appointment and pay for your services at the reception counter
All transactions must be completed at the waiting room reception counter behind the Plexiglass shield.
Once you have completed your booking and your payment I encourage you to leave the waiting room as others will be entering for their next appointments
Thank you for your cooperation! We look forward to assisting you safely and in good health!!