The Elohim Energy Healing method (EEH) is an advanced practical system of healing the body. EEH has laser sharp accuracy in healing and is specific in discovering weaknesses and is precise in its treatments.
This method does not involve any religion nor any medical diagnosis and treatment.
Method
This healing system, developed by Marcos Huerta herbalist and healer, employs:
The use of a pendulum as a tool or developed sensing ability to communicate and assess the body through a series of reflex points, pressure points, and organ reflexes to determine the cause(s) of ill health or weaknesses in the body. These points are like speaker phones that give the listener detailed information of any weaknesses in the body.
The channeling of Elohim energy to heal illness through a written prescription of prayers or transformations for specific intentions. This procedure is performed in person (in clinic) and or  at long distance.
A system of pressure points related to all the organs in order to stimulate the organs in the body.
The use and application of herbal remedies to cleanse and strengthen the body.
Georgio Trimarchi has been involved in natural healing methods and herbal medicine since 1990. Through his mentors and further education, he has been able to assist clients to tap into their own ability to heal.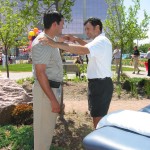 This type of healing is unique and very specific to treating many dysfunctions in the body such as:
• Digestive problems
• Headaches/ Migraines
• Hormone problems
• Organ dysfunctions
The use of herbs and applications have been useful to assist the body to rebalance and regenerate nutritionally depleted states.
Georgio Trimarchi provides online distance energy testing and healing to help you discover the cause(s) of ill health and to provide you with a direction towards a balanced and healthy life.