Massage Therapy (MT) has been around for centuries. This therapy consists of the therapist performing manual techniques directly on the client's body to eliminate pain or maintain a healthier body.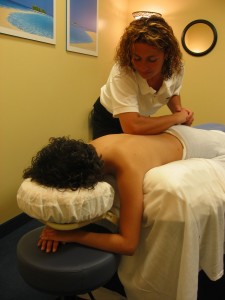 More specifically massage therapy directly affects the muscular system by decreasing muscle spasms, the component that causes pain, and enhancing the blood supply. This increases the circulation of oxygen to the body and eliminates pain.
Massage therapy is an effective treatment of musculo-skeletal disorders and is safe and effective if used for stress management. It is also widely used to help clients obtain relief from many specific problems, including the following: neck pain, low back pain, whiplash, headaches, sports injuries, muscle spasms, tendonitis, arthritis, and post injury rehabilitation.
Massage Therapy can benefit people of all ages and conditions.